Bollywood's Best 90s Movies – Bollywood is always known for its romantic movie but the 90s was the time when action movies came frequently. It was the time when some of the best Bollywood movies came. Three superstars become very popular in this arena.
Bollywood's Best 90s Movies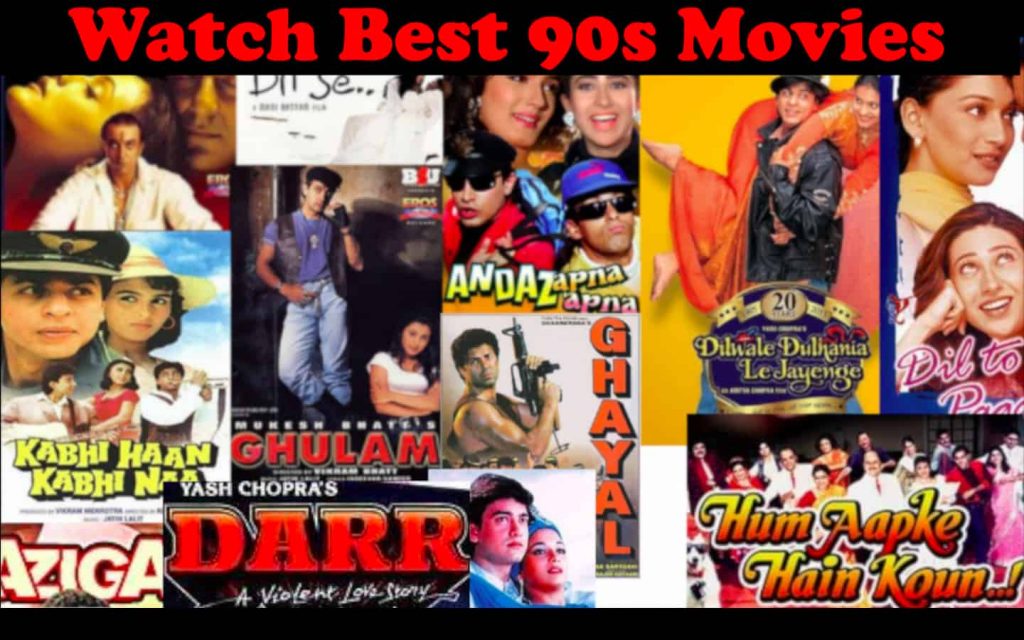 The romantic movie made Salam, Shah Rukh and Aamir superstars. All different genre movie came in the 1990s like a suspense thriller, social, crime thriller and comedy-drama movie. Some movies become biggest blockbusters of Bollywood film.
Bollywood's Best 90s Movies – Watch Good 90s Movies List
Let's start with amazing collection of Bollywood best 90s movies list –
Ghayal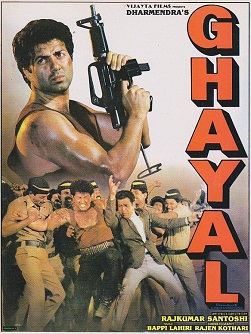 Ghayal (1990) – Sunny Deol starrer Ghayal is an action drama genre movie. Supporting actors Amrish Puri, Meenakshi Seshadri, Babbar in important roles. This was the one movie which rises the level of Sunny Deol and he was counted in top actors of Bollywood after this movie.
Aashiqui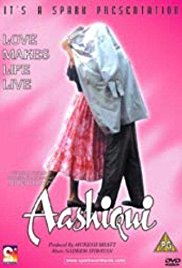 Aashiqui (1990) – Mahesh Bhatt directorial movie Aashiqui was a musical genre movie of Bollywood in the 90s. There were lots of songs and each song was loved by the audience. Still, some of the songs are on the playlist of many. This movie could not do as expected but in 2013 Aashiqui 2 came and it broke all records.
Dil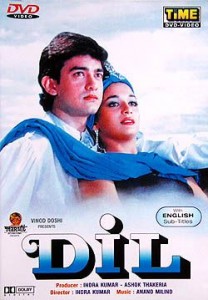 Dil (1990) – Romantic comedy genre movie Dil features Aamir Khan and Madhuri Dixit in lead role. Audience like the pair of both and movie did good business at the box office as well. This story of the movie is about a rich girl and poor boy who want to get married.
Hum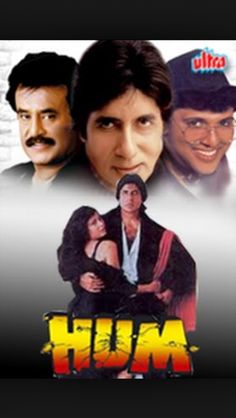 Hum (1991) – This was the time when Rajnikanth was seen often in Bollywood movies. Amitabh Bachchan was also seen in this movie together. It is a crime action movie and it was the third movie when Amitabh and Rajnikant were seen together.
Saajan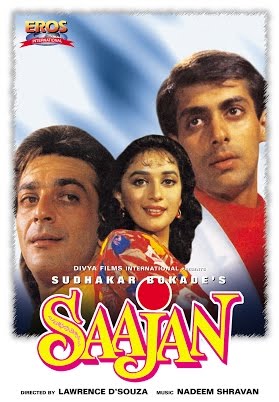 Saajan (1991) – Salman Khan, Sanjay Dutt and Madhuri Dixit starrer movie Saajan was successful. This movie was directed by Lawrence D'Souza. It was a love triangle that includes friendship and sacrifice.
Sadak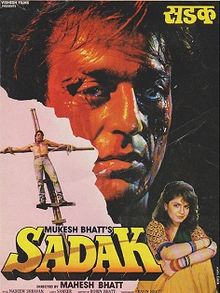 Sadak (1991) – Sunjay Dutt and Pooja Bhatt starrer movie Sadak got appreciation from critics. This was romantic thriller genre Bollywood movie directed by one of the most promising directors of Bollywood Mahesh Bhatt. The movie tells the hidden truth of forcing girls into prostitution.
Darr
Darr (1993) – This was starting off his career in Bollywood. This movie was already rejected by many established actors as it involves negative character. Shah Rukh Khan was an establish actor after this film got released. As per some critics, this was SRK's best performance till date.
Khalnayak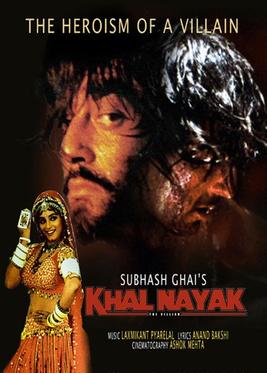 Khalnayak (1993) – One of my all-time favourite movie ever made in Bollywood. This movie has got everything like thrill, love, drama and Sanju as the villain in the movie was loved by the audience. The movie is directed by Subhash Ghai and Jackie Shroff plays the role of inspector in the movie called Ram.
Baazigar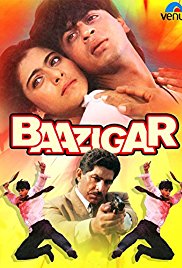 Baazigar (1993) – Shan Rukh Khan, Shilpa Shetty and Kajol starrer Baazigar were directed by Abbas-Mastan. This was the movie from which SRK got King Khan's title. This movie is an anti-hero genre and took SRK to another level.
Andaz Apna Apna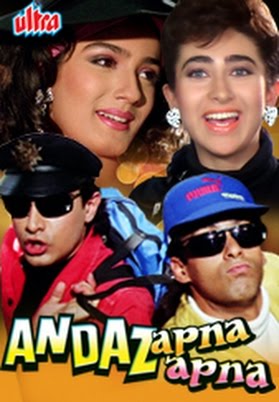 Andaz Apna Apna (1994) – Must watch comedy movie Andaz Apna Apna was a flop when it releases at the box office. But it gained popularity when it got released on TV. As per researchers, it was most watched movie on TV in the history of Bollywood. Salman Khan and Aamir Khan starrer movie were directed by Rajkumar Santoshi.
Kabhi Haan Kabhi Naa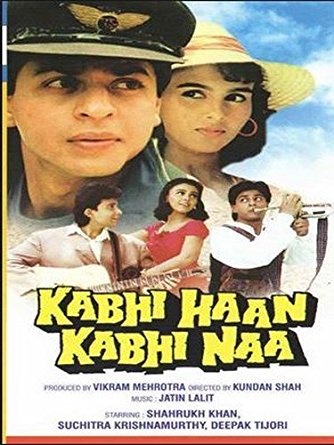 Kabhi Haan Kabhi Naa (1994) – This was the movie which features one-sided love. One of the best performance movie when we talk about acting skills of SRK. This movie is about a hero who loses at the end. Everyone liked the movie critics as well as audience and rated it as best performance film of SRK. Director Kundan Shah directed this movie and achieved many awards for this movie.
Hum Aapke Hai Koun
Hum Aapke Hai Koun (1994) – Everyone's favourite movie Hum Aapke Hai Koun is a wedding drama movie. This is another Rajshri production film with Salman Khan. No other film has generated such a mass outside theatres in 1994. It is said by spectacular that if the inflation is adjusted this is one of the highest gross films in Bollywood industry till date.
Krantiveer
Krantiveer (1994) – Not many of you have missed Nana Patekar performance in different characters. This was the gigantic performance which takes him to another level. It is his only movie that won Filmfare of Best Actor. Dimple Kapadia played a journalist in this movie and Nana got inspired from her and get to fight against injustices alone.
Mohra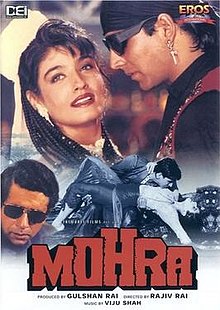 Mohra (1994) – Akshay Kumar is not behind when we talk about best 90s movies list. It was a movie based on political action. This movie was known for Raveena Tandon and Akshay Kumar pair as a couple. Akshay Kumar, Sunil Shetty play opposite and Paresh Rawal was seen playing supporting role on big screen for the first time.
Dilwale Dulhania Le Jayenge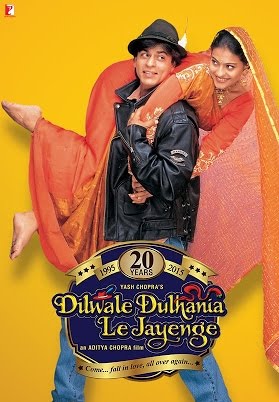 Dilwale Dulhania Le Jayenge (1995) – This is the only movie that is still running in theatre Maratha Mandir (Mumbai) from last 20 years. This was the best direction movie by Aditya Chopra. The director played the trick by starring Shah Rukh Khan and Kajol who were seen earlier in many films. This was a sweet innocent girl which Kajol looks like. The storyline and climax make the audience love this movie. My all time favorite among best 90s movies.
Karan Arjun
Karan Arjun (1995) – Still audience want to see SRK and Salman Khan together. It was the first movie when Salman Khan and Shah Rukh Khan collaborated for the film. This movie got a lot of excitement because of lead actors, music in film, action unique story. This movie was directed by Rakesh Roshan starring Kajol, Amrish Puri, Rakhee, Ranjeet, Johnny Lever in supporting characters.
Rangeela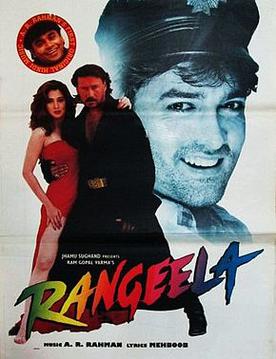 Rangeela (1995) – Aamir Khan Jackie Shroff playing male lead and Urmila Matondkar play the female lead in the movie. Music in this movie was done by A.R. Rahman as he made his music debut in Bollywood. This is Ram Gopal Varma film that inspired Hollywood.
Dil Toh Pagal Hai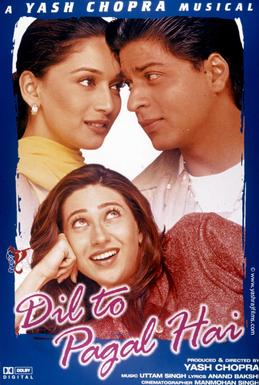 Dil Toh Pagal hai (1997) – Every time I turn on my television and I saw Dil Toh Pagal hai I can't change the channel after that. As per my opinion is my personal favourite movie as the performance of everyone is concerned. This is musical dance drama film starring Madhuri Dixit, Karishma Kapoor and Shahrukh Khan in lead role. This is Yash Chopra film which makes you love with Bollywood movies.
Virasat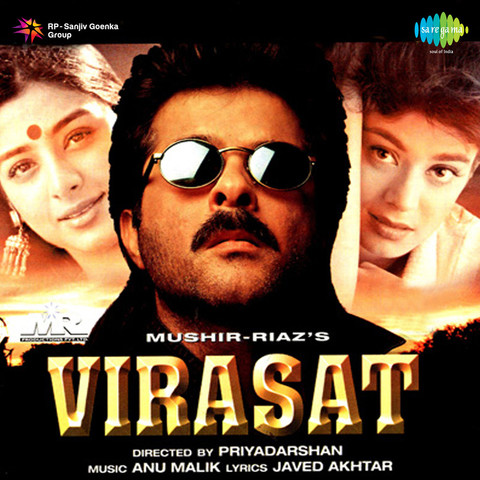 Virasat (1997) – Not many people know about this movie as it's not shown on television very frequently. This is a story of a boy who studied abroad and settles in the village. He then started following his father's path and get into helping people in the village.
Border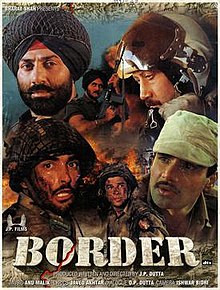 Border (1997) – Best war movie ever made in the history of Bollywood. The J.P. Dutta directorial movie Border was magic on big screen. The movie is based on the real-life incident "Battle of Longewala" between India and Pakistan in 1971. The movie starring Sunny Deol, Sunil Shetty, Akshaye Khanna, Tabu, Jackie Shroff and Tanu.
Gupt
Gupt (1997) – One of Bobby Deol's suspense thriller movie Gupt came in 1997. The movie was based on a murder mystery and Bobby Deol search for the culprit in the picture. It is directed by Rajiv Rai and features Kajol and Manisha Koirala.
Ghulam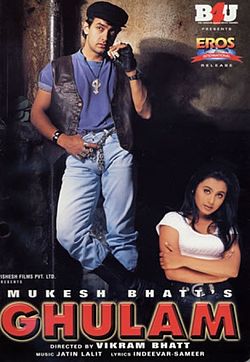 Ghulam (1998) – Crime drama genre movie Ghulam is a remade of 1988 action movie Kabzaa. This movie was a hit as compared to Sunjay Dutt starrer action movie.
Dil Se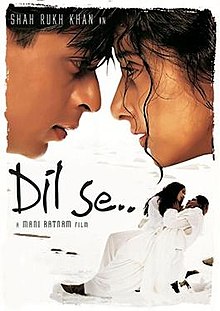 Dil Se (1998) – Romantic thriller movie Dil Se was a thriller movie where lead actress plays a role of a terrorist and lead actor fall in love with him. Director Mani Ratnam has described the story so well that it looks like the thing is happing just opposite when people think. Shahrukh Khan and Manish Koirala played the lead in this movie.
Satya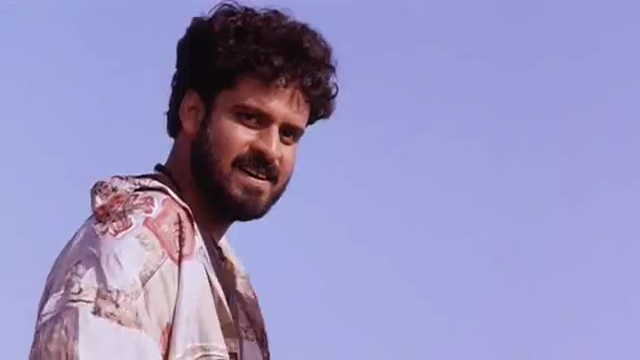 Satya (1998) – Gangster movie features Manoj Bajpai in lead role. This was the film from which the lead actor got recognition as an actor. Ram Gopal Verma directed this movie and the storyline is written by Anurag Kashyap.
Vaastav: The Reality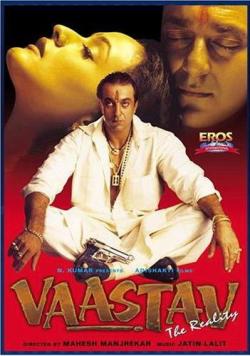 Vaastav: The Reality (1999) – The movie is based on a normal young guy who wants to work and earn money. After an incident where he gets involved in murder, they get into the underworld. This is an underworld crime drama movie starring Sanjay Dutt as a gangster and as per my opinion, no one could have done better than Sanju. Sanjay Dutt was awarded Best Actor by Filmfare for his remarkable performance. This is one of the best 90s movies that we added in the list.
There are some of the best 90s movies lists we have added. Do comment which movie you like the movie – or if you want to add some important movie that we missed do comment.