The Indian Movies Based On 1984 Anti Sikh Riots – Whenever we talk about Khalistan movement there are many unforgettable incidents that happened in the history of India. Indian jurisdiction was criticized for making it alive movement. There were injustice and victims of this incident was ignored as they were not citizens.
There was another event that leads Sikh community beside any other community. This event was anti-Sikh riots after the death of a prime minister of India Indira Gandhi assassination which was done by two security guards of Indira Gandhi.
This incident happened in 1984 and it's the brutal fight ever in the history of India. In this event recorded killings what 2800 whereas on recording killings can't be estimated till now. It was claimed that political parties were involved in this right and violation.
To make audience and young generation know about the victims of 1984 many writers directors filmmakers have made fabulous movies mostly in Punjabi. Some Hindi films also showcase what actually happened at that time.
Top 10 Indian Movies Based On 1984 Anti Sikh Riots, Genocide, Operation BlueStar & Khalistan Movement

Before 1984 things started with Khalistan Movement in Punjab and Haryana where people demand over the different country. There were many operations leading to control the Khalistan movement which was named as Operation Blue Star and the Sikh riots movement. In this article, we have collected the best movies that have shown most realistic events that were faced by the people at that moment.
Let's start with Indian Movies Based On 1984 Anti Sikh Riots released recently
Dharam Yudh Morcha
Another Punjabi movie which was released in 2016 made a remark in Punjabi cinema. This movie features the story of 200 people who were on a protest against the government. This protest was peaceful and soon it becomes violent movement. The main lead in this movie is played by Satnam Singh, who is a survivor of BlueStar attack.
31st October
31st October movie was released in 2016 starring Soha Ali Khan and Vir Das. This movie has shown the story of a family the rescue and what happened to them in relation to the most drastic Sikh riots after The Assassination of Indira Gandhi which was occurred on 31st October 1984. The movie is directed by Shivaji Lotan Patel. This is a good movie but could not attract more audience as people are aware of this incident because many other movies were released on this topic.
Punjab 1984

Diljit Dosanjh starter movie Punjab 1984 was released in 2014. This is a period drama genre movie which particularly focuses on 1984-1985 time. This movie tries to make people know about an incident that occurred in the life of people who were not part of Indira Gandhi's assassination. There is social life was ended. The story behind this film is about her missing son who was illegally taken up by police. This movie has changed the career of Diljit Dosanjh, and he was offered a Bollywood movie after Punjab 1984s success. This is my favourite Indian Movies Based On 1984 Anti Sikh Riots.
Kush
Kush is a short movie which was inspired by a true incident that happened during 1984. This story is about school and teachers who were travelling on a field trip with 10-year-old students. Among these 10 there was only 1 Sikh student. This movie shows the struggle of the only Sikh student in the class during anti-Sikh riots after the assassination of Indira Gandhi. The short film was released in 2013 directed by Shubhashish Bhutiani.
Shareek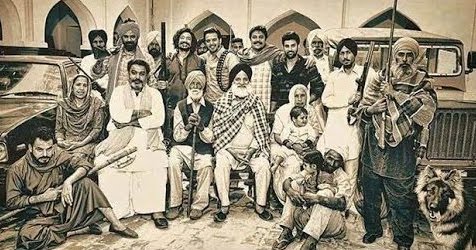 This is a Punjabi movie which is based on Sikh insurgency during 1980s time period. This movie was released in 2015 and it is directed by Navaniat Singh. In this movie, you can see Jimmy Shergill, Mahie Gill, Simar Gill, Hobby Dhaliwal and many more.
Des Hoyaa Pardes
Gurdas Maan starrer Des Hoyaa Pardes Punjabi movie which is based on the life story of Gurshaan Singh Somal and the struggle of his family when 1984 anti-Sikh riots were active. Other than Gurdas Maan you will see Juhi Chawla and Divya Dutta in lead role. This movie was also awarded National Award in 2004.
47 to 84
It is not a very well known movie but it depicts the story which is inspired by a real incident. This story is based on a girl who experiences several mental and physical pain during 1947 Indo Pak partition. She experience the same when 1984 anti-Sikh riots were active. This movie won many awards and is directed by Rajeev Sharma.
Kaya Taran
The movie was released in 2004 in the Hindi language. This movie is based on another movie which was released in the Malayalam language, actually, it was a short story by N S Mahadevan with the title "When Big Tree Falls" these words said by Rajiv Gandhi on the assassination of Indira Gandhi. The story tells us about 1984 anti-Sikh riots and a story of an event that happened with 8 years boy. In this movie sister, Agatha protected this boy and his mother.
Hawayein

My favourite and you should not miss this movie which is a backdrop of 1984 Sikh Genocide. The film was released in 2003 and is based on some real-life incidents which impact the operation BlueStar and Indira Gandhi assassination on people's life in Punjab. This story is based on a man called Sarabjeet who belongs to a middle-class family and soon he became the most wanted terrorist in India. In this movie, you will see Babbu Maan, Ammtoje Mann, Mukul Dev in lead role.
These are some of the best Indian Movies Based On 1984 Anti Sikh Riots you should not miss watching.