Kia Rio will finally make its debut at the end of 2019 or 2020. Kia Motors has confirmed to get in India soon. The brand needs to get up outlets all over India to sell its New hot hatch Rio in India. After the launch of compact SUV, Kia Motors will launch this hatch. The Rio will be costlier then Hyundai i20 and it will sell as a premium product in India.
Kia Rio India
Kia was the only brand who showcased its full line up at the 2018 Auto Expo. Views want the brand to hit the Indian market soon. Kia globally is doing really well when it comes to styling and brand value. Kia Motors is owned by Hyundai but it will not sell the Kia brand under their banner. It was earlier confirmed by the brand that Kia motors will open new showrooms pan India.
Kia Rio Price In India
Kia Rio will be priced at Rs 7.60 lakh. The basic price could go up due to increase in taxes. Soon the official price of Kia Rio will be updated.
Kia Rio 2018
Rio recently got a new body and the new Rio is doing well internationally. The same hatch will launch in India that was showcased in Auto Expo 2018.
Kia Rio Exterior
The new 2018 Rio looks quite a sporty hatch. It is probably the most exciting looking car in its class. It got a tiger nose grille in front and at the rear, it looks tighter and more compact. Indian look at the practicality and this is one that most buyers want. In India, it will get 15-inch alloy wheels and a larger wear windscreen. The multi-reflector halogen headlamps look good and fog lamps are positioned next to air vents on the bumper.
Kia Rio Interior
It is going to be one of the best interiors compared to all its rivals. Rio will offer Start/Stop button, automatic climate control, heated mirrors, Bluetooth, Android Auto, Apple Car Play, split folding rear seats, reversion camera, large 7-inch screen infotainment system, heated seats, rain sensing wipers, cruise control, leather upholstery and other steering mounted control. It will get additional safety features like ABS/EBD, stability control and much more.
The cabin looks quite fresh, modern and simple which really goes its favour. Everything is centred around the central infotainment system. You will also get plenty of practical storage spaces inside the cabin.
Kia Rio India Specs
Internationally Rio hatch is powered by 1.6-litre 4 cylinder petrol engine. This engine produces 130 PS peak power and 161 Nm of maximum torque. It is mated with the 6-speed automatic transmission.
But if we talk about Rio India specs; it will be powered by a 1.4-litre diesel 4 cylinder engine option. India will also get petrol variant which will be mated with the 5-speed manual transmission.
Kia Rio India Review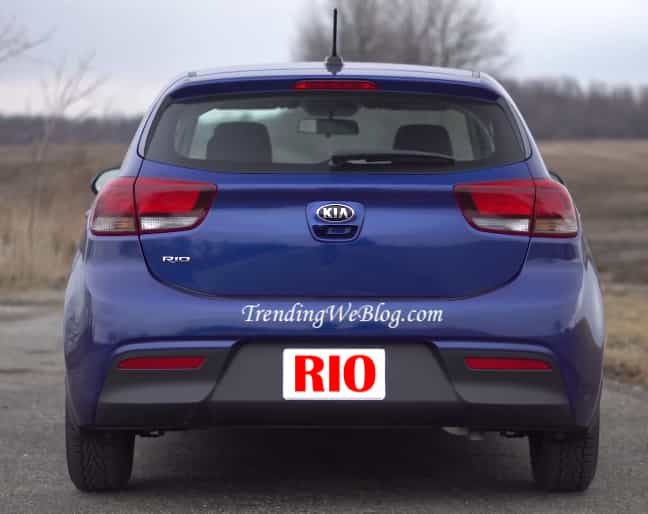 Rio will be placed as a premium product in India. It will directly compete with Hyundai i20 and Maruti Suzuki Baleno. Soon all these hatches will compete with one another. In conclusion, it is going to make a good mark in India.