10 Lines on Daily Routine with some real life experience. Today we are going to share 10 Lines on Daily Routine in English for Kids and students of classes UKG, LKG, 1, 2, 3, 4, 5, 6, 7 and 8th in 100 and 200 words. This is the best information one can write in an exam as well. Learn 10 lines about daily routine and let your friends know.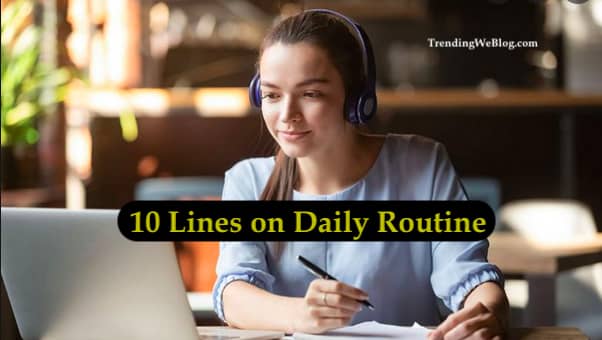 10 Lines on Daily Routine

Wake Up Early

Quote – Early to bed early to rise. If you walk up early you will never have a bad start, if you have than you have enough time to recover that start. Wake up early will set a positive tone for the entire day. Most successful people choose to walk up at 5 or 6 when the rest of the world is asleep.

Eat a Healthy Breakfast

It is very important to eat heath portion to get necessary fuel to your body. Try and pick high protein diet in morning i.e oatmeal, nut butter, avocado toast, egg, veggies and so on.

Exercise

Students who feel asleep when they get up early, exercise is the easiest way to get rid of sleepiness in morning. Go for a walk, jogging, play a game or do yoga will help you to feel fresh.

Plan Your Day

One of the best way to achieve your goals in life, just try to achieve short term goals first. Day to day plan will help you get to closer to your long term goals. This will help you to look forward and get focus on your day.

Make Note

Try to write what you want to do to achieve your plan. For first few days you will find difficult you right, but if you start writing it will defiantly help you to achieve your goals.

Keep Your Focus

As the day proceed you will feel tired. Don't loose your focus in-between and get trapped. Just take little rest and have food in-between to focus on your plan as day proceed.

Breakdown Your Work

Easiest way to get your work done is to breakdown your work in small parts. When you divide your work in small parts you will feel the work is less stress. Target will be achieved easily.

Set Reminder

Always set a reminder for the work that is important at a particular time. When you are occupied with some work, it is hard to remember something different at a particular time.

Prioritise Your Work

When you make a list of work, just mark important in your list so that you can work accordingly. Which work is done on priority you should know immediately.

Meditation

If you feel tired or feel sleepy just try meditation. This is the best way to relax your mind. Meditation is one of the most powerful thing when it comes to reduce stress.