Hello, aspirants today we are going to write 10 lines on My House in English. This will help students to get good results in exams. These lines are mostly asked in many exams. You can learn and give oral exams as well.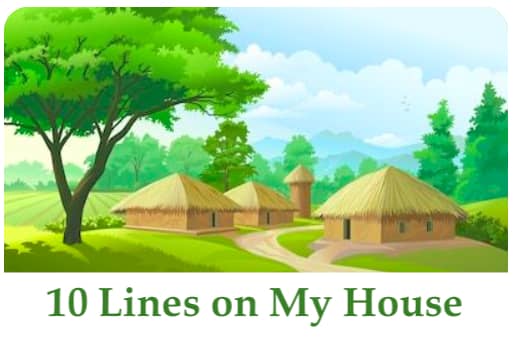 10 Lines on My House in English
My house is in Shalimar Gardens.
It is a very big and beautiful house.
It is in the heart of the city.
The shops and markets are at a stone's throw away from my house.
There are two lawns on both sides of the main gate of the house.
We have planted some flowers and fruits trees also.
The porch is decorated with potted flowers.
I daily water the plants in the garden.
Our house is a double storied building.
On the ground floor, we have the drawing room, the dining room, two bedrooms and kitchen.
The first floor consists of two bedrooms, the store and the study room.
My sister and I study in the study room.
There is also a terrace on the first floor.
In winter, we sit on the terrace and enjoy the warmth of the sun.
My parents have decorated our house with beautiful paintings and pictures.
All the floors have marble tiles.
We always keep our house neat and clean.
When I return from school, I feel great comfort at my home.
I feel fully safe and secure in my house.
My house is my paradise and I love my house very much.