Dussehra essay is one of the most viewed essay in India. Dussehra is celebrated on 15 October. Today we are going to add Dussehra essay in English for students of class UKG, LKG, 1, 2, 3, 4, 5, 6, 7, 8, 9, 10, 11 and 12. In this article you will get Dussehra Essay in 300 words.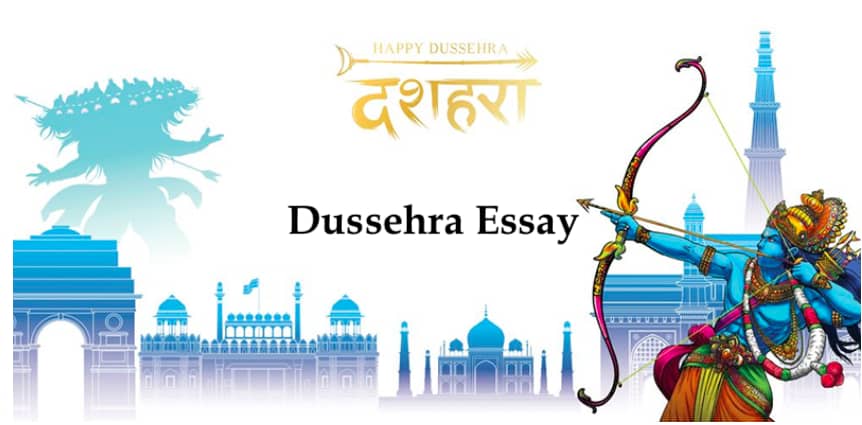 Dussehra Essay 300 Words
Dussehra' is one of the most important festivals of Hindus. It is also called 'Vijayadashami',as it is celebrated to mark the victory of Lord Rama over Ravana. It falls on the tenth day of Ashwin month according to Hindu Calendar and is celebrated across India, every year in the month of September or October twenty days prior to the festival of Diwali.
The festival of Dussehra is an epitome of victory of good over evil power. It is celebrated in the happiness of winning of Lord Rama over the demon king Ravana. To rejoice this date people started celebrating this day as Dussehra festival. So this festival is being celebrated since ancient times.
This day is celebrated on a large scale in India as well as in Nepal and Bangladesh. In most parts of India plays, most commonly known as "Ramlila", are organised across cities to depict the story of Ramayana and the effigies of Ravana, his son Meghnath and his brother Kumbhkaran are also burnt.
Artists take on the form of Rama, Sita and Lakshman and they put these effigies on fire with the help of an arrow of fire. The effigies are full of firecrackers and they start to burst as soon as the fire starts, which turns these effigies in ashes.
The Dussehra festival also bring along a few days leave for schools and colleges. So this festival is awaited all year long and is celebrated with immense energy and fervour.