Indian Judiciary essay for Class 10, 11, 12 and College students. Find a paragraph, long and short essay on Indian Judiciary for Students.
Essay on Indian Judiciary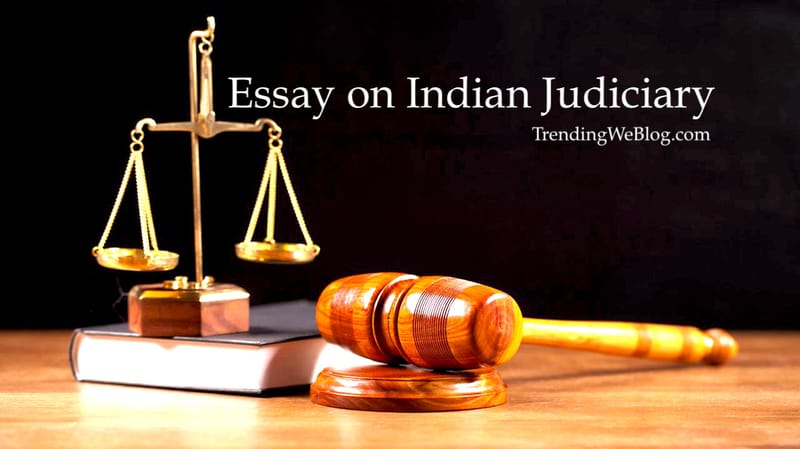 Essay on Indian Judiciary 300 Words
The Indian Judicial system is one of the oldest legal systems in the world today. The Indian Judiciary plays an important role in safeguarding the fundamental rights of citizens which includes providing fair and time-bound justice. Integrity, Impartially and Intelligence are some of the important characteristics of Indian judiciary and the Supreme Court is the custodian of the Constitution.
Supreme Court is the apex court in India followed by High court, District court and lower courts Judicial activism. Judiciary has given some remarkable decisions like-right to privacy, national anthem, Liquor Ban near Highways, (Triple Talaq, hold on Aadhar linking, Changes in SC/ST Act), reforms in BCCI etc. There are 2.18 crore cases pending in India's district and lower courts. Justice delayed is justice denied.
Judges and staffs are under immense pressure in India. From a long time, there is a shortage of prosecutors, judges and courts. Almost 5000 judges are short in lower courts and more than 22 million people are under trial in India. Delay creates frustration and results in loss of confidence among the general mass. The rift within SC is a serious issue for the integrity of the judiciary system. India's courts are clogged with long-pending cases. In recent years cases of bribery, acceptance of facilities and perks are serious issues. Govt should allow the wheels of justice to move faster. Appointment of judges should be done regularly and efficiently.
Needless to emphasize that judiciary is a vital organ of any democratic setup, responsible to provide fair and expeditious justice to all. Many structural reforms are required to improve the working standard of the judiciary. With more focus on technology, we can make the system more transparent. Judiciary and legislative should work together to strengthen the justice system in India and gain the confidence of masses who rely on Judiciary.
We hope you like our Essay on Indian Judiciary.