ISRO essay for Class 1, 2, 3, 4, 5, 6, 7, 8, 9, 10, 11, 12 and College students. Find a paragraph, long and short essay on essay on ISRO for Students.
Essay on ISRO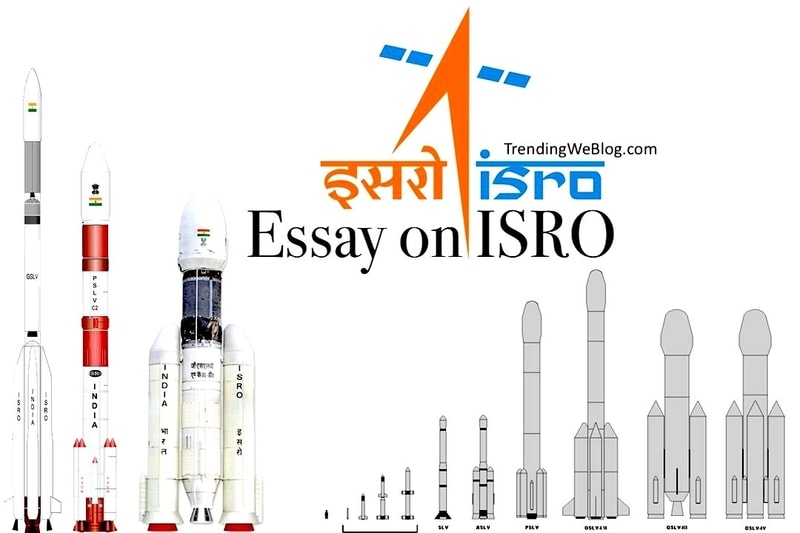 Essay on ISRO 250 Words
The Indian Space Research Organization (ISRO) was established in 1969 by the government of India. It is headquartered in Bangalore and is under the umbrella of the Department of Space. Modern space program received an impetus with the leadership of Dr Vikarm Sarabhai. The aim of ISRO is to develop and enhance space technology and expand its applications for the benefit of the nation. Achieved a number of milestones since its establishment.
ISRO launched its first satellite Aryabhata, Rohini in India. In 2008, PSLV rockets managed to launch Chandrayaan-1 into Moon. Mars Orbiter Mission in 2014. ISRO achieved the success in navigation satellite systems. GAGAN and IRNSS have been deployed. ISRO created the history by successfully launching 104 satellites on a single rocket from the spaceport in Sriharikota. It is also very important for military upgradation under constant threat from our neighbours.
ISRO has applied its technology for the benefit of mankind in telemedicine, remote sensing, weather forecast, farming, geological mapping and survey, satellite communication controlling deforestation, disaster management and security purpose. It also faces some challenges like sufficient funding, development of GSLV satellites and solar shielding of satellites.
ISRO is on par with leading space research organizations in the world, including NASA of the United States, CNSA and the European Space Agency, ESA. The dedicated and diligent scientists are giving a new direction to ISRO. ISRO has made its mark in space technology with latest satellite launches and development of state of the art engines. It will soon become a leading space organization in the world with the most efficient and economical services.
We hope you like our Essay on ISRO.