UPI Essay for Class 1, 2, 3, 4, 5, 6, 7, 8, 9, 10, 11, 12 and College students. Find a paragraph, long and short essay on UPI for Students in English.
Essay on UPI for Exam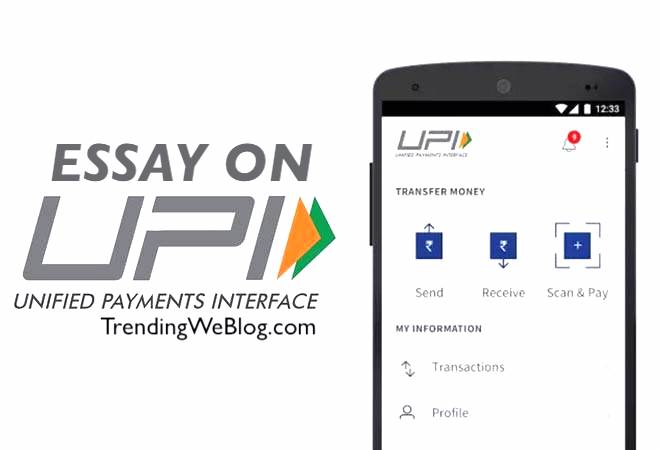 Essay on UPI 300 Words
From medieval to modern times there have been numerous transformations in financial and economic system. From use of seals, coins and barter system we have turned the tables by harboring on the use of ATMs, Plastic Money and the most advanced Unified Payments Interface (UPI). UPI is the brain child of National Payment Corporation of India (NPCI) and RBI. It is made to achieve universal e-payments, less-cash economy and financial inclusion. Now available on mobile phones, UPI provides a two-way exchange of money, directly into bank accounts, instantaneously.
The existing platforms for financial transactions include IMPS, RTGS and NEFT but these are tedious and sophisticated to use. With UPI, only one virtual address is required, be it an e-mail id, AADHAR no. or phone number. Unlike E-wallets like Paytm, one does not need to maintain a minimum balance. In UPI the transaction fee is very minimal of only 50p/per transaction. This makes UPI very affordable. UPI is bank based hence it is more secure than E-wallets as it has a two-step authentication protocol.
Daunting challenges for UPI are lacunae of financial literacy and infrastructure than comes in-availability of internet services in remote parts of India, also getting every bank in the nation to render services through UPI is a hard nut to crack.
To deftly confront these challenges, the NPCI should make an E-wallet of its own for example Bharat-Money. The government should ardently increase the scope of digital India and make a grievance redressal System for the hassle-free and timely refund of money. A less-cash economy saves the environment by cutting down the usage of paper currency. Once fully accepted by the nation, UPI can be a boon and a cornerstone for economic growth.
We hope you like our "Essay on UPI"