Reliance Indian announce next phone which will be called Jio Phone 2. It is a successor of Jio Phone which was launched @501. Today the phone got officially launched by the brand. The new phone will come with 2.40-inch QVGA TFT display with a resolution of 240 pixels by 320 pixels. JioPhone2 is much bigger than Jio Phone. The long features list will make the customer happier than the previous model. The phone looks similar to Blackberry Curve. It will only get keypad touch which will help the budget customer to get hands on easily. A basic phone with a long feature list will encourage customers to buy the latest flagship phone from Jio.
Jio Phone 2 Features
Dual SIM
Torchlight
2.4 QVGA TFT Display
FM Radio
Battery
Charger
Ringtones
SD Card Slot
Camera
Microphone
Speaker
Qwerty Keyboard
4-Way Navigation
Headphone Jack
Call History
Jio Media Cable to connect with Tv
Voice Assistant Feature
The customer can use voice assistant features in the following categories –
Call
SMS
Jio Music
Jio Cinema
Browse
Excess to My Jio Apps
Jio Tv
Jio Cinema
Facebook
Jio Xpress News
Jio Phone 2 Specification
New Jio Phone 2 will come with 512MB of RAM. Most important it will have 4GB of internal storage which can be further extended to 128GB. There is a room for SD card in the phone. Now everyone can click good quality pictures as Jio Phone 2 will be packed with a 2-megapixel primary camera on the rear whereas the 0.3 front camera can disappoint customers which are used for selfies. The Jio Phone 2 is powered by 2000mAh battery. Now you can connect it with Wi-Fi, GPS, FM, NFC and Bluetooth.
Jio Phone 2 Price
The new JioPhone 2 price in India is ₹ 2,999. You can see the new Phone 2 at Jio store on 15th August 2018. But the sale of the new phone will start on 30th August 2018 at 12 PM.
Jio Phone 2 Booking Process Step by Step Explained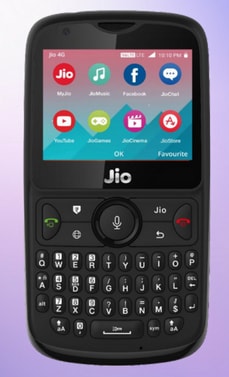 Steps to buy JioPhone2
1 – You need to visit the official site of Jio
2 – Select the new JioPhone2
3 – Enter Pincode of your area
4 – Enter your personal details for example Name, address, email ID, mobile number and more
5 – Select the payment option you need to pay for you new JioPhone2
6 – Pay 2999/- amount. Don't pay more than this amount
7 – After payout, you will find a confirmation email and SMS on your mobile phone
Customers need to follow these seven steps to register for JIOPHONE2. Ask more question to register for the upcoming phone.