Pradhan Mantri Jan Dhan Yojana Essay for Class 6, 7, 8, 9, 10, 11, 12 and College students. Find a paragraph, long and short essay on Pradhan Mantri Jan Dhan Yojana for Students.
Pradhan Mantri Jan Dhan Yojana Essay in English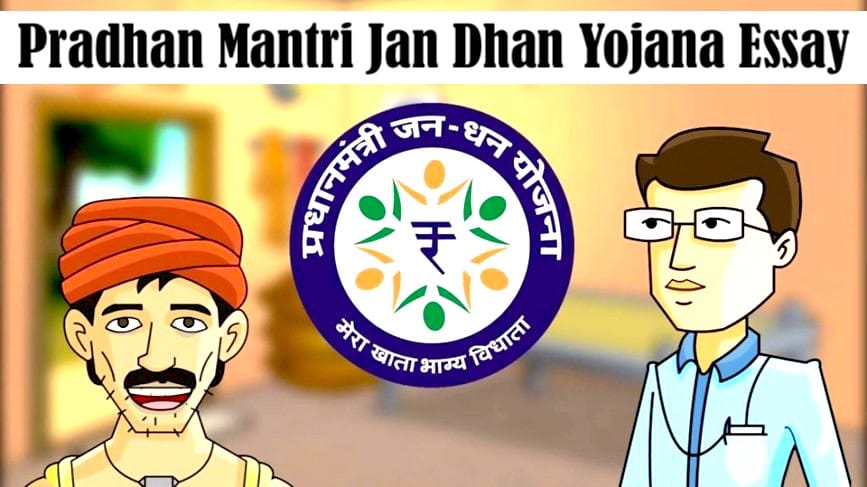 Pradhan Mantri Jan Dhan Yojana Essay 300 Words
"Mera Khata Bhagya Vidhata" meaning – my bank account, the creator of the good fortune. With this slogan, honourable Prime Minister launched Pradhan Mantri Jan Dhan Yojana (PMJDY) on 28th August 2014. It is a national mission for financial inclusion with an objective of providing one bank account for each individual. The nodal agency for implementation of this scheme is the Ministry of Finance.
The success of this scheme can be understood from the fact that 1.5 crore accounts were opened on its inauguration day. It is also recognised by the Guinness Book of World Records for the most bank accounts opened in one day.
The major reason behind the success of this scheme is its benefits like there is no minimum balance criteria for PMJDY accounts. The account holders are also provided with PuPay debit car with an inbuilt accidental insurance cover of Rs 1 lakh. A life insurance cover of Rs. 30,000 is provided to those whose accounts were opened before 26th January 2015.
Moreover, the beneficiaries of government schemes get direct benefit transfer (DBT) in these accounts which has helped in cutting down corruption by stopping the leakage of money. Furthermore, funds transfer and balance enquiry can be done easily through a normal phone.
However, this scheme has also created an extra work pressure on the baking staff as many people who already had an account opened new accounts. There is still a lack of financial and digital literacy in rural areas where people don't want to open an account. The government should set up seminars at the various rural location and motivate people to open a bank account.
PMJDY is a major step to connect every Indian to various financial services, such as saving bank account, insurance, pension etc using advanced technology. It has been beneficial for all and has encouraged saving habits among masses which will increase economic growth and reduce poverty.
We hope you like our Pradhan Mantri Jan Dhan Yojana Essay.