As per latest update by Reserve Bank of India – Soon Rs 100 note will be in the Indian market. Recently RBI reported it in a conference of issuing Rs 100 denomination notes shortly. A special report by Dainik Bhaskar report said that the new Rs 100 note is printing at Dewas-based Band Note Press. This note might be launched in August.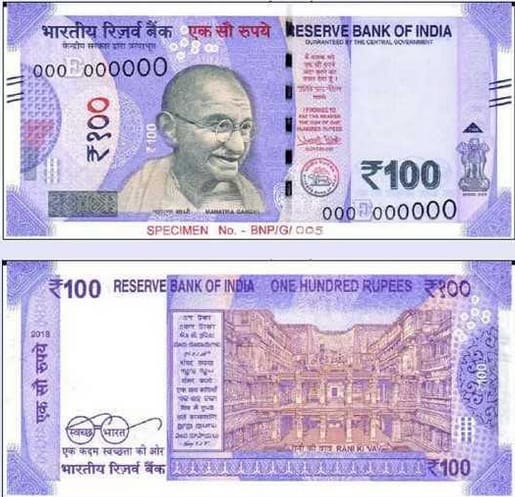 Introduction of the new Rs 100 note, will not have any impact on the old currency. There will be more micro-security features in new Rs 100 note.
The new note will have the motif of 'Rani Ki Vav' known as a step well which is located on the banks of Saraswati river in Gujarat's Patan. This time Reserve Bank has decided to bring Rs 100 note in lavender colour. It will have a new security pattern on both sides of the note. The note will follow the same colour scheme on both sides.
Rs 100 note will be smaller than current note. Now the size of the new note will be similar to Rs 2000 and Rs 500 note. The dimension of Rs 100 (66 mm x 142 mm) compared to old note (73 mm x 157 mm).
Soon banks will get Rs 100 banknotes issued by Reserve Bank of India and will be a legal tender as soon as banks start receiving these notes. Gradually there will be an increase in public distribution after RBI reaches some specific number of printing.
We expect the central bank will start printing Rs 200 note in October and those note will be in circulation in April 2019.
Other Links
India's Most educated Person with 20 degrees