Sachin Tendulkar Biography – Introduction
People call him "God of Cricket" and his teammate call him "Sir Ji" and when he is playing there is online one voice "Sachin! Sachin!
He was born on 24th April 1973 to Rajani (Mother) and Ramesh Tendulkar (Father). Sachin's name is taken from Ramesh Tendulkar's favourite director Sachin Dev Burman.
When Sachin was a kid he doesn't want to be in music but he likes to play. Nobody knew that in such a small age one of the key player in the world of cricket.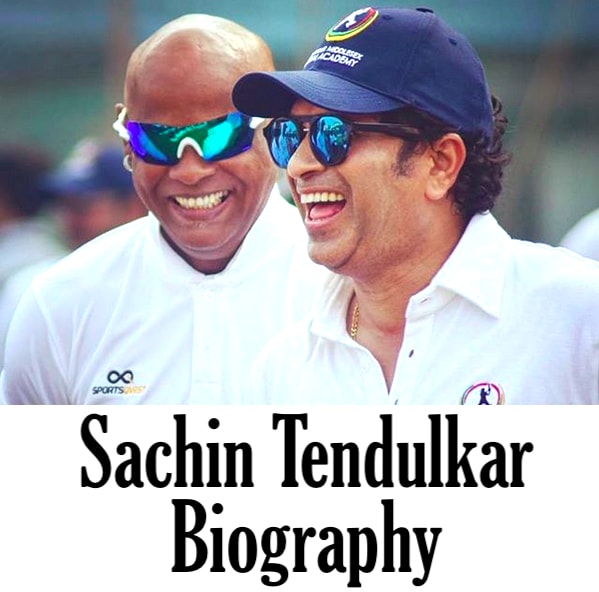 Sachin Tendulkar Biography – Who he started his Career
Elder brother of Sachin Tendulkar Ajit Tendulkar had encouraged him a lot to play cricket. In his young age, only Sachin Tendulkar use to practice hours at the net's.
His coach Achrekar Sir use to place one rupee coin on top of the stumps and challenge every bowler to bowled him out, he will get one rupee coin. And if Sachin wasn't bowled out, he would take the coin with him.
So, Sachin won thirteen coins which he considered his biggest award.
Sachin Tendulkar Biography – Facts
At the age of 16, Sachin Tendulkar made debut in international cricket. He played his first test against the Pakistan team.
The Pakistani bowlers did best against Sachin but they did not get success. In the same match a bouncer hit him on the nose and he started bleeding. He refused to get back to pavilion and started playing again.
It is believed that when the tiger is wounded he becomes even more dangerous, that's what happened to Sachin. The bouncer certainly did injured Sachin but later he thrashed every bowler.
Sachin Tendulkar Biography – Records
When it comes to international cricket Sachin created history by hitting 49 centuries in ODI International's cricket and 51 centuries in Test cricket.
He hit his first International Test Cricket Century on 9 August 1990 against England.
After 4 year on 9th September 1994 he hit his first ODI international century.
He is the first international cricketer who hit 200* runs in ODI cricket.
Sachin Tendulkar has every possible record in cricket. He is the first intention cricketer to reach 10,000 runs mark in one day international. And it continued till 18,000 runs.
It was a time when Sachin played alone for Indian team, when everyone returned to the pavilion.
Australia still remember their defeat on the field at Sharjah.
Sachin Tendulkar Biography – When he became Captain and Vice Captain
It was a time when Sachin was on list of every one and soon he became vice captain of Indian cricket team.
He won many matches and soon Indian Cricket Board decide to make him captain.
But his captaincy didn't sit well with the Indian team.
Mohammad Azharuddin said it once that "we won't win under Sachin as a captain".
Sachin Tendulkar Biography – Personal Life
On the other hand Sachin was breaking records and on the other hand he fall in love with Dr. Anjali.
He got married to Anjali on 26th May 1995.
Now they have 2 kids, daughter Sarah who was born on 12th October 1997. Boy Arjun who was born on 24th September 1999.
Please note that Sachin Tendulkar wife is 6 year older than Sachin.
Many critics told Sachin that he should get retire, but Sachin always responded with a bat.
Sachin Tendulkar Biography – Brand Endorsement & Tournaments
Sachin has endorsement biggest brand like MRF tyre, Boost drink, Nike, Red Chief, TVS Bike, Pepsi and many other as well.
2011 World Cup is victory ranks highest among all as per Sachin's interview. This was his most remembered day when India life the World Cup after 28 years.
It was Sachin's childhood dream that he would win the World Cup for India. And in 2011, when he won the World Cup, he was in tears.
Sachin and his entire team cried along with him.
Sachin Tendulkar Biography – Questions
When little kids ask Sachin that they also want to play cricket, please give us some tips.
Sachin's reply "My only tip to you is, chase your dreams. You need to dream if you dream to play for India, chase it and work hard and enjoy the game. Don't find shortcuts, there will be difficult phases also. Don't worry about it, just enjoy the game. Have a big heart and look at life positively."
Comment and let us know who's biography you want to read next.