Van Dhan Scheme essay for Class 5, 6, 7, 8, 9, 10, 11, 12 and College students. Find a paragraph, long and short essay on Van Dhan Scheme for Students.
Long and Short Van Dhan Scheme Essay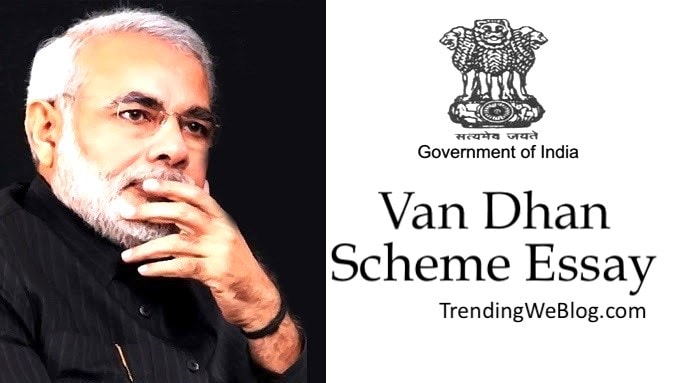 Van Dhan Scheme Essay 300 Words
Every civilised society, today, was once a collection of a forest-dwelling tribe. A tribe that was self-sufficient, progressive and nature dependent. Realising this the Prime Minister of India Narendra Modi launched the Van Dhan Scheme on 14th April 2018 at Bijapur, Chattisgarh. The ministry of Tribal affairs and TRIFED will be the nodal agencies at central and state levels respectively.
Tribes, which depend on Minor Food Products (MFP) will be the beneficiaries and to help these tribes, from, first collection a forest product to finally selling it in the open market, the government has introduced a 3-Tier system. At the district level, a collector will be the supervisor. At the first stage 10, Self Help Group (SHGs) of 30 Tribal gatherers will be constituted. They will be trained on sustainable harvesting, collection and will be provided with equipment and tools for primary level processing and Value addition. After this final processing, SHGs will supply the stock to state-level agencies which on the second stage will set up value addition facilities at the district level and at the state level in the third stage.
By doing this, the government will ensure a systematic unhindered path for economic development of the tribals, it will help in the optimum utilisation of natural resources and provide sustainable MFP-based livelihood. Also, the government plans to open 30000 Van Dhan Kendras in the coming years. However, primary obstacles to this scheme could a language barrier, a proper communication channel and unwillingness of the tribals to participate. But with an optimistic attitude and smart work plan these challenges can be overcome.
To conclude, this scheme is a step of reverence and will actualize the real empowerment of our tribals.
We hope you like our Essay on Van Dhan Scheme.