Why it was said 60s films were the best time for Bollywood? It was the time when black and white cinemas were replaced by technicolor films. Coloured film took one step forward and totally replace black and white screens from cinemas. Audience liked the way movies were shown on coloured cinema.
This was the time when Bollywood experience new technology, creative minds worked, and skills from every field made some most memorable films. In 60s films new actors came in Bollywood and India got its first industry's superstar as Rajesh Khanna.
Many other actors like Sadhana, Shammi Kapoor, Saira Banu, Manoj Kumar and many female actress got famous in this era.
Bollywood 60s films list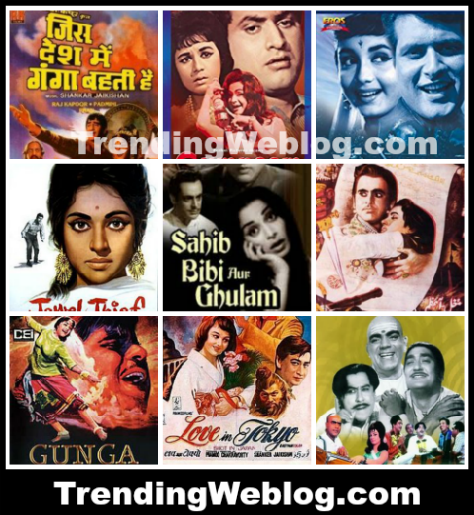 New genre like drama, war, comedy, horror and many other were introduced. One of the best time of Bollywood was 1960s movies.
Mughal-E-Azam (1960)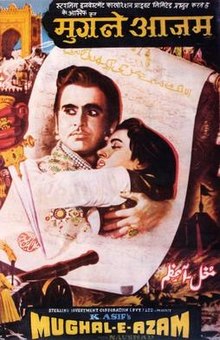 During the period of 1960s films in Bollywood were made in small budget. Mughal-E-Azam was the epic drama genre film which required lot of courage. To make such a film Shapoorji Pallonji show lot of courage to produce such big budget film. Director K. Asif made Dilip Kumar and Madhubala to act in such an amazing film.
Jis Desh Main Ganga Behti Hai (1960)
Raj Kapoor starrer movie Jis Desh Main Ganga Behti Hai is directed by Radhu Karmakar. The film is about a young orphaned man who make people walk on right path. Other then Raj Kapoor, Pran, Lalita Pawar and Padmini was seen playing supporting role.
Gunga Jumna (1961)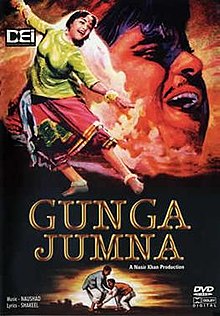 Gunga Jaumna is a epic story of brother who get into conflict and sue each other in court. This is a drama movie of 1961 starring Dilip Kumar and Nisar khan in lead role. The film is directed by Nitin Bose and Vyjayanthimala was seen as female lead in the film.
Sahib Bibi Aur Ghulam (1962)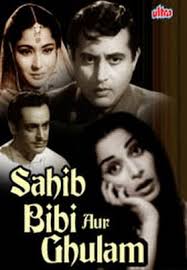 As many other drama movie this is another Superhit film starring Rehman, Meena Kumari and Guru Dutt. The film is based on Bengali novel called Bimal Mitra.
Bandini (1963)
Nutan, Ashok Kumar and Dharmendra starrer movie Bandini was an unexpectedly a good movie. This movies is also based on novel Tamasi by Jarasandha. The story is about a women who gets life improvement for murder.
Sangam (1964)
This is one or the 60s films which belong to director Raj Kapoor's talent. This romantic drama genre movie star three actors Raj Kapoor, Vyjayanthimala and Rajendra Kumar. First film from Kapoor's still called as best performance film.
Dosti (1964)
Not all 60s films were released in coloured. Some black and white films also do well at the box office. This film focus on friendship of two guys, one who is blind and other cripple. Both help each other in difficult times.
Woh Kaun Thi? (1964)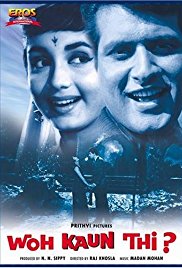 This is one of its kind black and white film focus on psychological mystery. Movie features Sadhana and Manoj Kumar in lead role. Supporting role is played by Prem Chopra. The plot takes many twist and turns to make audience think what's gonna happen next.
Gumnaam (1965)
Bollywood and suspense thriller is not so comment till now. Hollywood directors work hard to make such genre movies. Still Bollywood has made some of the best suspense thriller movies in 60s as well. This movies a an adaptation of Agatha Christie's novel called "Then There Were None". This is about finding a killer in story.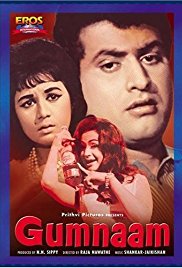 Guide (1965)
Dev Anand starrer movie Guide came in 1965. It is said Guide was the film where Dev Anand was considered as his best performance film. Waheeda Rehman was playing female lead in this movie. This movie is based on novel written by R.K. Narayanan's called The Guide.
Arzoo (1965)
Rajendra Kumar, Feroz Khan and Sadhana was seen playing lead in Arzoo movie. Top three actors and love triangle was the success story of this movie. It has got same kind of plot seen in Sangam.
Love in Tokyo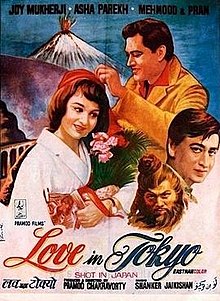 A romantic Bollywood masala movie Love in Tokyo become superhit at box office. The movie is directed by Pramod Chakravorty featuring Joy Mukherjee and Asha Parekh. The film till the story of love birds settled in capital city of Japan.
Teesri Manzil (1966)
First ever attempt of musical thriller film. The film is directed by Vijay Anand starring Shammi Kapoor and Asha Parekh. The story of this movie revolved around a murder mystery. Music thriller as R.D. Burman's music give it best of his music.
Upkar (1967)
Upkar is a patriotic themed Bollywood movie based on life of young boy from village. He tried to give away everything to make his brother educated. The movie also include other family event what make audience stick to their seat as the movie belong to them. The movie starring Manoj Kumar and Asha Parekh.
Jewel Thief (1967)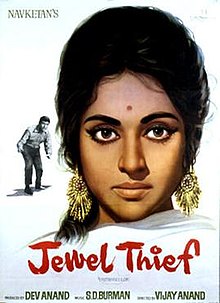 Yet another Vijay Anand movie starring Dev Anand, Vyjayanthimala and Ashok Kumar. This movie is based on Jewel Thief who look like Vinay. Dev Anand play double role in this movie. This is an thriller mystery film in search of a person who have stolen Jewel.
Ram Aur Shyam (1967)
Dilip Kumar starrer double role movie Ram Aur Shyam came in 1967. The story of this movie is about two brother who were separated after their birth. This movie is a remake of Telugu movie Ramudu Bheemudu. Tapi Chanakya has directed this movie.
Hamraaz (1967)
Another suspense thriller movie directed by B.R. Chopra. The story is a murder mystery where a women died and Sunil Dutt and Raaj Kumar who are playing lead role in the film as suspect to the police. The story is about truth behind the murder.
Padosan (1968)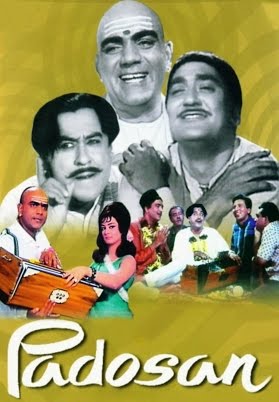 Most of 60s films were made romantic and thriller concept. Padosan is one of its only kind comedy movie which became hit in those days. The lead role of this movie is played by Sunil Dutt, Saira Banu, Mukri, Mehmood and others. Surprisingly movie is directed by Jyoti Swaroop and this is a remake of Telugu movie Pakkinti Ammayi.
Aradhana (1969)
Aradhana is a romantic movie starring Rajesh Khanna in lead role. In early times Rajesh Khanna was party of most romantic movies. This was a super blockbuster movie with Sharmila Tagore. Rajesh Khanna was the first actor who gave 17 hit films from 60s films to 70s films.