High sales of popular consumer goods reflect the power of advertising. The sale of most consumer goods reflects the power of advertising and not the real needs of the society in which they are sold. To what extent do you agree or disagree?
High sales of popular consumer goods reflect the power of advertising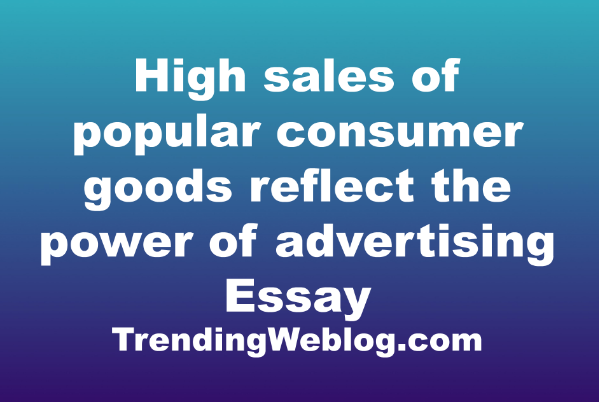 Millions of new products are launched into the market every day. Most people would be amazed if they realized the fact that companies spend more money on advertising products than on research and development. So, the role of advertisements in pushing the sales of any consumer item is indisputable.
Undoubtedly, advertisements act as a 'ready reckoner' for those busy individuals who do not have time to learn about different things or for those housewives who collect information about the outside world through media. Products of different companies may be of the same quality, but the familiarity of a brand name through advertisements makes people buy a particular product. For example, when a person buys one television out of many models, most of the time; it is through a commercial that he has come to know about the features of that television.
However, instead of publicizing the features of a product, most advertisements these days are aimed at making people believe that life without that product will be termed outdated or old-fashioned. Thus, they create artificial needs in consumers. As a result, people go on changing their cars and clothes and purchase many cosmetics to keep themselves afloat in the changing society. The best illustration is that now, many people are concerned about how a new mobile phone will reflect their personality, how a new shirt will impact their image, or how a new car will make their colleagues jealous.
Personally, I think that high sales of popular commodities are the result of promotional techniques. Also, there is no doubt in the fact that such advertisements increase the evil of consumerism.