How to be cool – Biggest question in today's growing world is how to be cool? We are going to talk about what it means to be cool and give you some tips and tricks which will benefit you to be cool instantly. Most people don't know the basic on how to be cool, but today we are going to let you know everything about to be cool. Few easy steps to get rid of the not cool badge by doing the following things.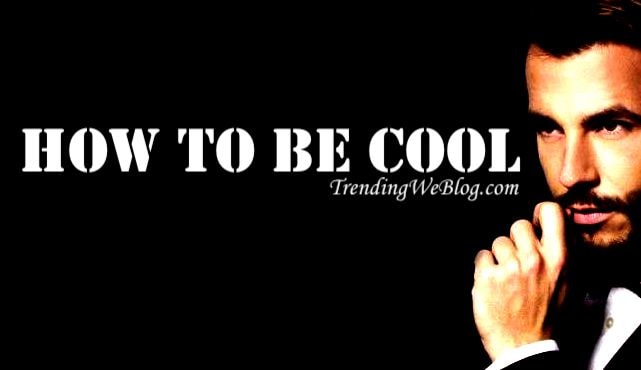 Learn Easy Steps – How to be Cool
Grow Beard
Tried and tested formula is growing a beard. So, when anyone compares clean-shaven to men about two to three days of stubble with a beard. The researcher found certain characteristics with a man that grew the stubble makes men more attractive. There was no such reason given that why they look more attractive or cool in the beard. As per our opinion, when you look at the guy with stubble, it looks like he got his own company or he is working where he decides to grow a beard. Basically, he is sending a strong signal that he's outside the balance.
Good Posture
Looking cool starts with good posture and how well you can carry our stuff in front of other people. Sitting comfortably is another part of good posture and stop slump over. Don't try to hide when you are sitting, a lot of people hide while sitting. By doing so you send a signal of weakness to other.
Wear a Jacket
Wearing jacket is also cool. As when you are in jacket your physique look better with broad shoulders and a thin waist. If you are wearing a leather jacket you will send a message of strength and masculinity. If you take any of the actors from Hollywood you will see the most guys wear a leather jacket. Pilots to adventurers and others also wear leather jackets. The leather is durable, touch and it works for many when it comes to how to be cool.
Some People Try Hard to Be Cool
To be cool is not trying too hard to be cool. If you are always looking around of what's uncool, what's not cool is someone begging, someone pleading, somebody standing in the corner fidgeting or looking really nervous or sweating will make you uncool. Think of someone who never gets nervous ever, be like him and control yourself and be positive. Always speak slowly, never lose your sight of what your goals are. If you want to look cool walk into a party, event or some meet, try to interact with others. Start practising how you can talk to people and if I'll do try, you're never gonna worry about how you walk or how you are looking.
Sunglasses
If you want to see the difference between how to be cool and not, wear a pair of sunglasses click a picture and click without wearing a sunglasses. You will notice the difference while wearing shades. The level of coolness shot up most of the time. There are two reasons why shades will make you look cool.
Number one: It will make you more mysterious. People can't see the eyes, they're instantly going to take a more of an interest simply wondering if you are looking at them. This can translate into them paying more attention, therefore your coolness is going to go up. 

Also, celebrities wear a pair of sunglasses when every you see them in public. Especially the classics like aviators, wayfarers, club masters all of these have an association with coolness. You want to find the right frame for your face, but you want to also find the right brand for you.
Be Humble
When you walk into a room don't show attitude, be calm and humble to everyone. Don't think that people going to hate you, they're not gonna like your voice or your dress. Go and assume the best of people that they are just like you. These are those people with whom you can spend quality time.
Get Fitted Jeans and Suit
Dressing plays important role in being cool. A well-fitted pair of denim will make you look better than others. Going to a party wear comfortable pair jeans with a white t-shirt.
If you are going to any official meet you need to get a fitted suit. The key is to get the fit right, find a brand that works for you and then, go get a few varieties of colors.
Break the Rules
First of all, you need to understand the rules and then have the courage to break them. So, one of the things we teach is that you need to have a strong foundation in men's style. Guys should understand why we dress what the dress codes are, but once you understand all of that and then you understand your position the message you're waiting to send.
You can go and break those rules. So, if you're going to go into a conference where everyone else is going wearing a suit, but you've got a company that lets you wear anything like in Western sphere. Well, nothing boring with you actually wearing a cowboy hat with a dark pair of black wrangler and maybe a really nice suit jacket and cowboy boots. Yeah, you're going to stand out but you know what? That fits your brand, that fits your company, and if it's going to help people remember you that a positive approach.