Diwali is the most important festival in India. Diwali is celebrated by most of the communities in India and outside as well. Today we are going to discuss about 10 lines on Diwali in English language. This is the one of the most common question which is asked in exams. Student of class UKG, LKG, 1, 2, 3, 4, 5, 6, 7, 8, 9 and 10. Lets start the most important line on Diwali in English.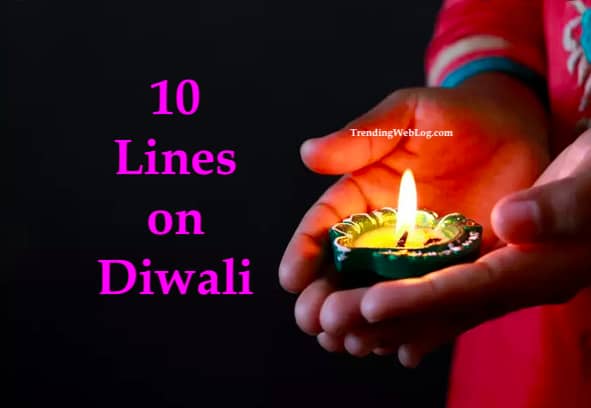 10 lines on diwali in english
Diwali is a festival of lights and has a relation with other festivals like Jain Diwali, Bandi, Tihar, Swanti and Bandna. 
This festive is celebrated by Hindus, Jains, Sikhs and some Buddhists. 
In the Hindusim religion Diwali is celebrated as it symbolises the spiritual "victory of light over darkness, good over evil, and knowledge over ignorance. 
The day is celebrated when Lord Ram returned to his kingdom Ayodhya with his wife Sita and his brother Lakshmana after defeating the Kind of Lanka Ravana after 14 years. 

It also celebrates India's rich tradition of following the right path after defeating all odds. 

Diwali is usually accompanied by decoration, lighting, diyas, bursting crackers and rangoli that bring colours to life. 

On the day we all worship Goddess Lakshmi and Lord Ganesh for good health happy living. 

Most people order to buy sweets and share gifts with neighbours, friends and family. 

Diwali celebration starts 5 days before the day. 

On Diwali students and kids bust crackers and celebrate this festival  

Due to air pollution some good kids only light diyas box crackers increase air pollution which is not good. 
10 Lines on Diwali in Engish is import as it is most common question asked and it will help you get good results.