Hello, aspirants today we are going to write 10 lines on Indian Flag in English. This will help students to get good results in exams. These lines are mostly asked in many exams. You can learn and give oral exams as well.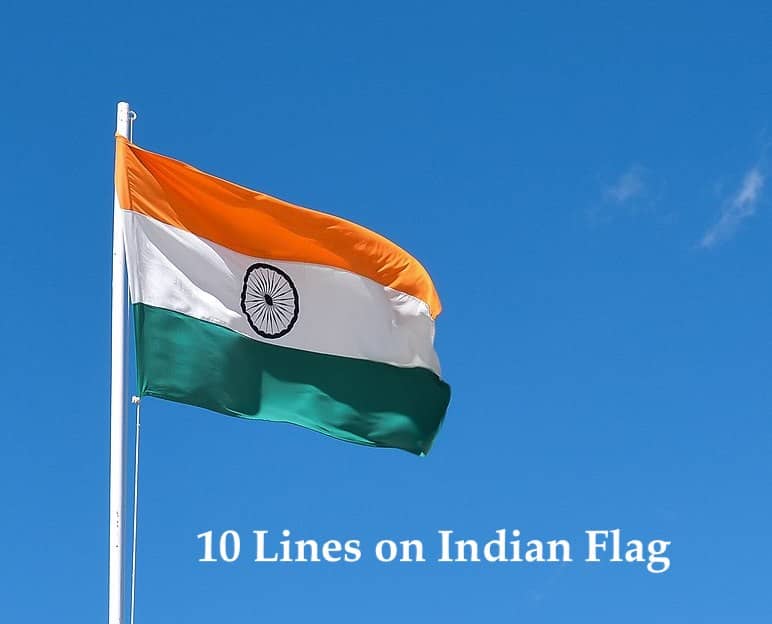 10 Lines on Indian Flag
Every independent nation has its unique flag.
Our national flag is tricoloured.
It is also called Tiranga.
It was adopted on 22nd of July in 1947.
It is a symbol of freedom, unity, pride and honour.
It is also a symbol of our country's sovereignty.
It is horizontal tricolour of deep saffron at the top, white in the middle and dark green at the bottom.
It's orange colour shows strength.
White colour stands for justice. The green colour denotes rich green fields.
All the three colours are in equal proportions.
Our flag shows Ashok Chakra on the white part.
This chakra is wavy blue coloured wheel with 24 spokes.
Our national flag is made of khadi cloth.
The ratio of the flag is 2:3.
On 15th August our Prime Minister unfurls it on Red Fort.
It can be seen on most of the government buildings.
Our national flag is beautiful.
Our national flag is very important for all of us.
We must respect and honour our national flag and keep to flying high.