Today we are going to write an essay on Guru Nanak Dev Ji or Guru Nanak Dev Jayanti Essay in English 300 and 500 words for students for classes 1, 2, 3, 4, 5, 6, 7, 8, 9 and 10. This essay will help you write good wording in your exam. Learn more about how to write an essay on Guru Nanak Dev Ji.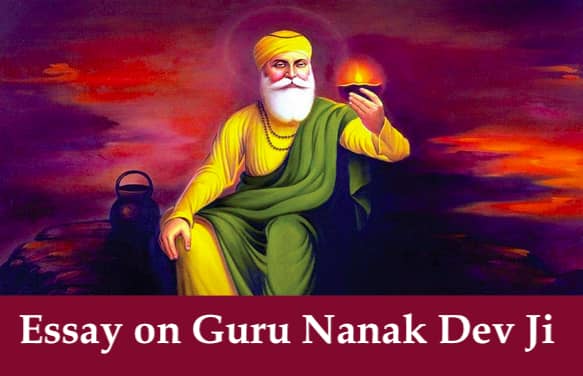 Essay on Guru Nanak Dev Ji 500 Words
Gurpurab or Guru Nanak Dev Ji is the most important and sacred festival of the sikh community, which is celebrated all over the world. This festival is also known as Guru Nanak Parkash Utsav and is celebrated on the birthday of Guru Nanak. This festival is celebrated every year in the month of November on full moon day.
Founder of the Sikh Panth and the first Guru, Guru Nanak Dev Ji, was born on April 15, 1469 in Rai-Bhai-Di Talwandi (which is now known as Nankana Sahib), now in Pakistan. Guru Nanak's father's name was mother's name was Tripta Devi and sister's name was Bibi Nanki. Since childhood Guru Nanak Ji was very spiritual person. The Guru ji took many people out of superstition and hypocrisy and set them on the right path.
To celebrate this auspicious day, Gurdwaras are decorated with flowers and lights. Generally, two days before Gurpurb, the Akhand Paath of Guru Granth Sahib (holy book of the Sikhs) is started in the gurdwaras. One day before the Gurpurab, the Panj Payaras (five beloved Sikhs) along with Nishan Sahib, (Flag of Sikhs) leads the Nagar kirtan. Devotees come together to take part in Nagar Kirtan and to pay homage to the Guru Granth Sahib. Hymns are sung by teams of singers in the praise of Guru Nanak Dev Ji. Gatka teams perform Gatka ( a traditional martial art associated with Sikhism) and conduct mock fights using their own conventional weapons.
The morning of Guru Nanak Jayanti begins with the Prabhat Feris. The Prabhat Feris starts from the Gurdwaras and they perform Kirtan in the entire city. In Gurudwaras, Asa-Di-Var or morning hymns are sung during the Amrit Vela i.e. early morning at 4 or 5 a.m. Ragis and narrators read kasha and kirtan in the praise of Guru Nanak. On this auspicious occasion, the messengers of Guru Nanak spread his special message.
On this auspicious occasion, arrangements of langar are made in gurdwaras, where everyone is invited to have a full meal. This langar is hosted by the volunteers. People sit together in rows to enjoy the langar and they also give Gurpurab wishes to each other. The volunteers offer langar with full devotion and also take part in other services like washing utensils, cleaning floors, etc. The real idea behind hosting this Langar is that each and everyone despite their cast, creed, sex, religion are free to eat together without any social, communal and political restraints.
In some gurudwaras, after the recitation of Rehires Sahib and even after the evening Ardaas, the kirtan diwan continues till late at night. At 1.20 p.m. (which is the real birth time of Guru Nanak Dev Ji) Gurbani is sung by the congregation in praise of Guru Nanak, and the celebration concludes at about 2 o'clock. In New Delhi, Haryana and Punjab, the birth anniversary of Guru Nanak Dev Ji is celebrated on a large scale and many Sides also celebrate this festival. Guru Nanak Jayanti is marked as a holiday on Indian calendar by the Government of India. People of the Sikh community wait for this festival throughout the year.
Essay on Guru Nanak Dev Ji in English for students. Essay on Guru Nanak Dev Ji is written in 500 words.