Today we are going to write an essay on Christmas or Christmas Essay in English 300 and 500 words for students for classes 1, 2, 3, 4, 5, 6, 7, 8, 9 and 10. This essay will help you write good wording in your exam. Learn more about how to write an essay on Christmas.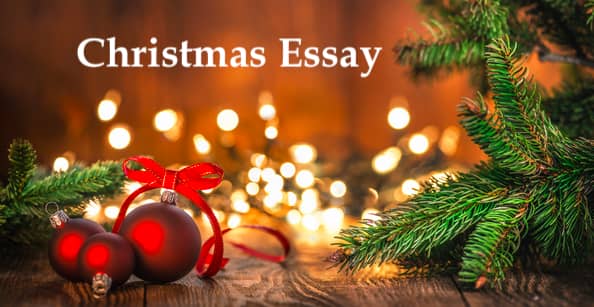 Christmas Essay 300 Words
Christmas is a famous festival of Christians. It is celebrated every year on 25th December in the whole world. Jesus Christ, who is believed as the Son of God by the people of Christian religion, was born on this day. In order to commemorate Christ's brith, this day is celebrated annually by everyone, especially Christians. It is the day of big importance for them. This day is also known as the 'Feast day of Christ'.
Christmas Day is celebrated as major festival and public holiday in countries around the world. On this occasion great preparation are made by the Christians. Houses are cleaned and decorated well with lights, wreaths, garlands etc. People decorate Christmas tree with artificial stars, lights, toys, etc. The tradition colors of Christmas decorations are red, green and gold. At night candles and electric bulbs are also lighted on its swings. They wish 'Marry Christmas' to their friends and relatives. They visit one another's house in order to exchange good wishes.
On Christmas Day, special prayers are done in the churches in the name of Lord Christ. Cake and different types of dishes are prepared and eaten on Christmas festival. Children get dressed in new clothes. They sing Christmas carol and anxiously wait for Santa Claus or the Father Christmas. Santa Claus, dressed up in red and white wearing white and long false beard, is supposed to appear to distribute attractive gifts to the children on this day. Any person disguised as Santa Claus distributes sweets among the children.
Home and market wake up with colorful lights. Family reunions and the exchange of gifts are a widespread feature of this festival. People forget jealousy, hatred and selfishness and treat all men and women as brothers and sisters. The spread of love and peace among mankind is the supreme message of Christmas. The Christians all over the world enthusiastically celebrate the Christmas festival. This festival is now a days found to be enjoyed and celebrated also by other communities not as a religious belief, but as a festival occasion.