Reading fiction is more beneficial and enjoyable than watching films –  Do you agree or disagree with the following statement? Reading fiction (such as novels and short stories) is more enjoyable than watching movies. Use specific reasons and examples to explain your position.
Reading fiction is more beneficial and enjoyable than watching films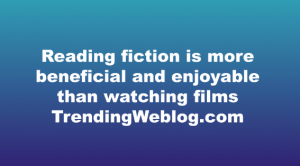 Some people are crazy about reading fiction like whodunnits while others prefer to watch movies. In my opinion, both are totally different in nature and hence, the advantages of both totally differ from each other. Therefore, a comparison is impossible.
When fiction books are considered, first of all, they are portable in nature. It can be taken anywhere one goes. For example, while travelling or just taking a bus, one can read a book. Secondly, reading extends one's vocabulary and improves reading and even writing skills. In addition, it extends their range of interests, improves their imagination and helps them gain more knowledge and experience. On the downside, it is not a group activity. So, it is not possible to enjoy this activity in the group. This best suits those who like to spend their time alone.
On the other hand, watching movies has many benefits too. Firstly, movies usually have more influence on people, their behaviour and mood. In addition, watching a movie in a movie theatre gives many advantages such as sound effects and a large screen. Secondly, it is a good way to relax with one's friends, eliminate stress and tension and just to have a good time. In addition to these benefits, watching movie usually takes less time than reading the whole book. However, on the flip side, watching a movie may not much improve your literary skills and going to the cinema may be a tiring experience for many.
In conclusion, there is no doubt that watching a movie is more enjoyable and impressive than reading a book from the recreational point of view. Furthermore, it suits those who have limited time. However, from the intellectual viewpoint, reading a book bring benefits.